Gift Cards
Moose Plates Make Great Gifts for Special Occasions.
We've made it easy for you to give someone a Moose Plate by providing "Do-It-Yourself" downloadable gift cards or desktop posters.
Ways to Use a Gift Card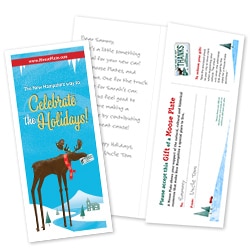 Realtors like to use the gift cards as housewarming gifts. Auto Dealers like to use the them as incentives for customers to purchase a new car or in monthly drawings. Parents, friends, and family use them to celebrate a graduation, new driver's license, birthday, or other occasion. Gift cards can even be used as a fundraiser auction gift in support of your favorite non-profit, or for gift exchanges at holiday parties.
Printable Gift Cards
Simply select the occasion, download and print the card, fold it, and enclose a check or cash. Each card has room for you to write a personal message, explains the benefits of owning a Moose Plate, and tells the recipient how to redeem their gift.
Holiday Gifts
Holiday Card Money Holder
Standard (4-1/4″x5-1/2″) Holiday Gift Card
Other Gift Cards 
Celebrate Birthday
Celebrate New Home
Welcome to New Hampshire
Celebrate New Driver's License
Celebrate Graduation
Celebration, General
Congratulations, General
Folding Instructions
Horizontal Gift Cards: Place the page image side down, blank side up. Fold the card in thirds starting with the cover which has a white border of about 1/4″ on both the left and right sides. Once the cover is in place, tuck and fold the inside flap.
Special Holiday (4-1/4″ x 5-1/2″) Cards: Place the page image side down in a vertical position. Fold in half, top to bottom, so that images show on both the inside and the outside. Fold again, from left to right, to form the card.
Printable Desktop Posters
In addition to gift cards, you can download one of our desktop posters:
8-1/2″ x 11″ Color Desktop Poster
11″ x 17″ Color Desktop Poster